Learning Knows No Bounds
---
At New Academy School, we are committed to the provision and facilitation of effective learning opportunities, suitable learning environments, challenging and stimulating curriculum provisions for ALL students. All students are equally valued, and all staff members strive to provide for the diverse individual needs of students in a way that recognizes their specific talents, individualized learning styles, backgrounds, and culture. The school recognizes that all students are not the same i.e. those with Determination may require additional support to fulfill their potential and those with Abilities or are Gifted and Talented may need accelerated learning. It is thus our aim to overcome potential barriers to learning and provide quality education for all.
We follow the UAE government's legal and statutory requirements concerning the rights and protection of ALL STUDENTS as stated in the Nation's educational agendas, priorities and frameworks.
Our team consists of the following:
1. Inclusion Governor
2. Inclusion Champion
3. Inclusion Head
4. Social Counselor
5. Inclusion Assistants
6. Fulltime Learning Support Assistants(LSA) formerly shadows
7. Inclusion Support Team which comprises a team of qualified teachers passionate about inclusion, accessibility office for vocational skills and modified curriculum, parent and student representatives.

This team works in collaboration with the head of schools, head of subjects, supervisors, parents, students and other external specialists.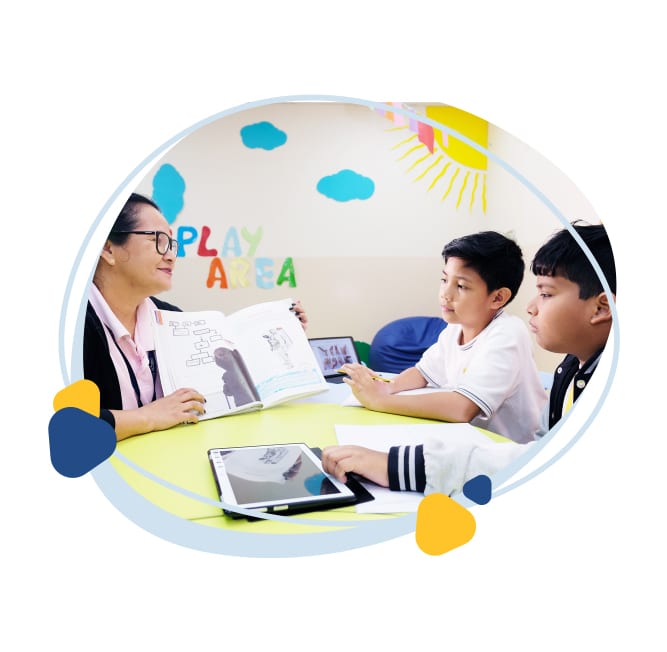 Inclusive Education Support Provisions
---
Individual Support/Behavior Plan
---
After thorough identification of the students' barriers they are put into tiers which determine the level of support . Students on Tier 3 are placed on an Individual Education Plan. An IEP is a document which describes the goals that are set for the student during the school year, as well as any special support required to best facilitate their progress and success within the school. For behaviorally challenged students a Behavior Support Plan document is created to help understand and manage behavior.
Generally, support is provided within the inclusive classroom as well as through special remedial sessions based on the needs of each student. We have an Inclusion Resource room where the LSAs work with students in individual or small groups during pullout pull-in sessions.
We also collaborate with outside educational centers for the purpose of acquiring specialist advice and interventions.
---
Alternative Curriculum Pathways and Vocational Skills
At NAS the Life Skills Education team is responsible for ensuring that SODs are equipped with skills that will enable independent participation in their future career life and society in general. SODs who cannot access the standard curriculum are provided with modified and alternative curriculum pathways. The school also liaises with technical and vocational skills centers to develop accredited pathways.
---
Diversity and Internationalism
---
At NAS diversity encampasses, acknowledging and respecting different cultures, religions and nationalities and instilling international mindedness A diverse culture is fostered by:
teaching students to accept and appreciate diverse cultures and beliefs.
teaching students about different religions, cultures, and nationalities, and encouraging religious ethnocentrism, and international mindedness.
instilling a culture where all members of a community live in harmony by showing each other respect and treating each other equally.
---
Internationalism aims;
To foster students' active participation in a global society and encourage them to accept cultural diversity by sharing knowledge through various events and virtual tools.
***For detailed information on NAS Inclusive Education Agenda refer to our school's
Inclusion & Gifted and Talented Policy
NAS Alternative Curriculum Pathways and Vocational Skills Framework